Khoi Delhi India – at the Reproduce Listening Room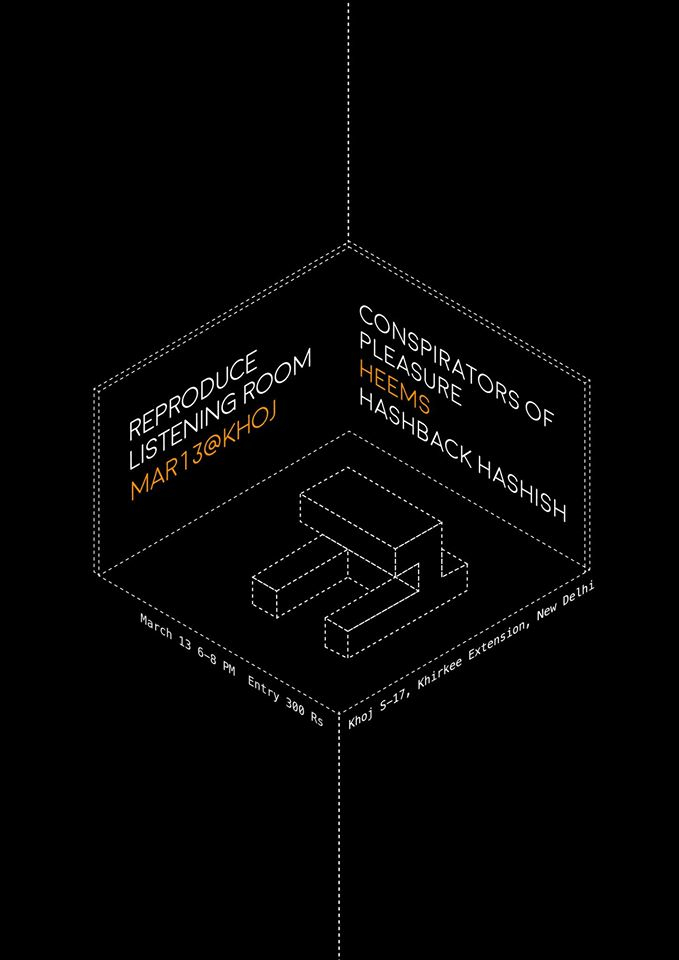 On Sun 13 March 2016, Conspirators of Pleasure performed at the Khoj Artists Workshop in Delhi as part of the eclectic series of sound nights called the Listening Room organised by the music collective, Reproduce. The series aims to fill a gap in the ever iterating and increasingly varied community of live music in India by showcasing talent that might not get heard in the more mainstream oriented venues. The night was packed out with an enthusiastic audience. Big thanks to Rana at Reproduce and all the crew at Khoj.
Conspirators Of Pleasure (London, UK). Their performance at Khoj was literally incendiary and powerful – see 06:00 mins. Poulomi Desai's experimental noise and colour film exploring frequencies and perception was also projected onto the ruins of a building opposite the Khoj building that resides in Khirkee Extension, an area that is relatively poor with a backdrop of the ever changing global capitalist empires.
Featured in Wild City: http://www.thewildcity.com/EN/events.xhtml/event/9376-reproduce-artists-presents-listening-room-feat-conspirators-of-pleasure-heems-hashback-hashish
Poulomi Desai and Simon Underwood are Conspirators of Pleasure, an improvising duo that seek to bend all the rules, question the sacred, create extraordinary soundscape performances and self-regulating sonic systems using modified and prepared instruments. Part of their unusual musical armoury includes a prepared sitar, sonically twisted stylophones, prepared bass, modified toys, resurrected radios and visually scarred slide projections. Their compositions explore experimental terrains, twisting technology to transform organic sounds into eerie calls that flow from intense waves of abrasive, noisy, chaos invoking industrial nostalgia, to structured pulsating rhythms, to melancholic, microtonal drones.
Heems (NYC, USA). Punjabi-American rapper, founder of Greedhead Music, and native New Yorker, Himanshu "Heems" Suri launched his solo career while a member of alternative hip-hop group Das Racist. After Das Racist split in late 2012, Heems headed to Bombay and began work on his official debut solo effort. The album, Eat Pray Thug, was released in 2015 and coincided with an exhibition of the rapper's artwork at the Aicon Gallery in New York City. Suri has performed at the Whitney Biennale, MOMA PS1, the MCA in Chicago, and San Francisco's Asian Art Museum.
Hashback Hashish (New Delhi). The music of Ashish Sachan confronts you with a simplicity that is both earnest, but also misleading – if you drill down there are details that only a pair of headphones (and perhaps a taste of his adopted name) can reward you with. Firmly rooted in the minimalist tradition, his narrative offers something for electronic music fans across the spectrum – committed geeks who respect musical history on one end, and on the other, those who could care less about the past and just want to lose it on a dancefloor.
Also featured as surprise guests were, Sister (Ruhail Kaizer), Hemant Sreekumar and Kartik Pillai (Jamblu).