About
Conspirators of Pleasure were formed in 2012 by Poulomi Desai (ex Dead Jalebies) and Simon Underwood (founder member of post punk band The Pop Group). They have been collaborating in an array of sound, installation and web projects since 2003, when they established the Usurp Art Collective.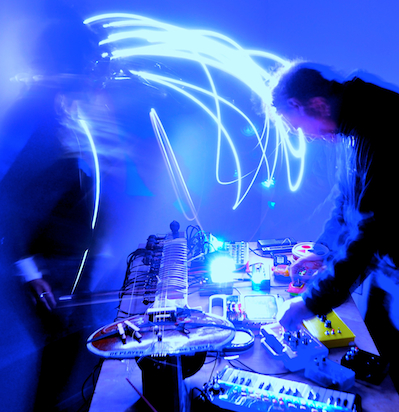 Conspirators of Pleasure are an improvising duo that seek to bend all the rules, question the sacred, create extraordinary soundscape performances and self-regulating sonic systems, using modified and prepared instruments. Part of their unusual musical armoury includes a prepared sitar, sonically twisted stylophones, prepared bass, modified toys, resurrected radios and visually scarred slide projections. Their compositions explore experimental terrains, twisting technology to transform organic sounds into eerie calls that flow from intense waves of abrasive, noisy, chaos invoking industrial nostalgia, to structured pulsating rhythms, to melancholic, microtonal drones.
The duo have worked with a range of musicians and artists including, Noise=Noise, Steve Beresford, Satoko Fukada, Aisha Orazbayeva, Kammer Klang, Roger Turner, Sharon Gal and John Edwards.
Commissions include Khoj Delhi (India), Clandestino Festival (Sweden), REProduce (India), Colour Out of Space Festival, Optophonic (UK) The Serpentine Gallery (UK), Futuresonic (UK), Souzouzukan 9001(Japan), The Oxford Gallery (India), INIVA, Supernornal Festival (UK) Home Live Art (UK), and The Queens Museum (USA). Their 'Usurp Chance Tour' with Stewart Lee, Seth Ayyaz, Steve Beresford, Tania Chen and Roger Turner, explored perceptual concepts of chance, time, listening and humour, and the breadth and parameters of improvisational approaches in new music.
Contact
For gigs, information, experimentation or workshops please contact: seek@conspire.org.uk